To the dismay of many South Africans, the MPC might be poised to deliver yet another interest rate hike at the upcoming meeting in May.
"Most had hoped that the previous interest rate hike would be the last we would see for a while. Sadly, the market seems to be indicating that another interest rate hike might be on the horizon," says Adrian Goslett, Regional Director and CEO of RE/MAX of Southern Africa.
Interest rates are currently at the highest they have been since 2009, but things are still not as bad as they were at the peak of the market crash in 2008 when interest rates were as high as 15.5%.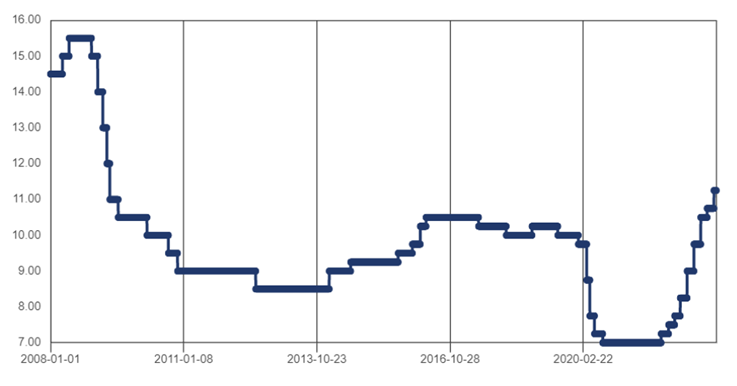 *screenshot taken from the Reserve Bank website: www.resbank.co.za/en/home/what-we-do/statistics/key-statistics/selected-historical-rates
"While I do not foresee interest rates climbing to the same levels we saw in 2008, I do encourage consumers to prepare themselves for the possibility of further interest rate hikes in the near future," says Goslett.
As things stands, homeowners might already be facing affordability issues. "The worst thing a homeowner can do in this situation is nothing. If budgets are feeling too stretched, it is better to act sooner rather than later. Avoid having your credit score forever tarnished by missing repayments or by making partial repayments. It will take a long time to restore your credit score and catch up on the debts if you start falling behind. Instead, be upfront about your situation and try to arrange solutions before things get out of hand," Goslett suggests.
For those who are considering downscaling, Goslett explains that the market is still active enough for homeowners to achieve their full asking price – provided that the home is marketed at fair market value. "Ultimately, rising interest rates affect both sides of property transactions. Rising interest rates impacts on the purchasing power of the buyer, so it is not as easy to finance a home and afford the repayments. This lessens the pool of buyers – at least those who require home finance. Because the pool of buyers become smaller, homes don't sell as quickly. Sellers who do not adjust their pricing tend to have their home's value appear overinflated considering the outside market conditions. The sellers who are first to adjust their pricing to reflect the current realty will have the advantage of having their homes sold quickly," he advises.
"Revising the selling price is not necessarily a time-based thing," he adds. "The correct way to approach this is to get the correct value at the start. If you need to make an adjustment, then you do – but you don't do so based on how much time has passed. You do so based on the market conditions around you."
Leaning on the advice of reliable and knowledgeable real estate agents will become crucial for those who want to sell at full value in a tightening market.