Due to load-shedding as well as the soaring cost of electricity, thousands of South Africans are investigating their options with regard to solar power. Understandably, they have a lot of questions. Solar energy experts Versofy SOLAR received more than 5 000 enquiries around home subscriptions since January, and they keep coming.
Ross Mains-Sheard, Director at Versofy SOLAR, answers 10 of the most frequently asked questions.
Is one brand of solar panel as efficient as another?
The efficiency of your solar panels depends on the amount of sunlight that they receive and their technical specifications. Some panels are more technologically advanced than others. Versofy SOLAR uses only best-in-class panels: Canadian Solar Panels and JA Solar panels.
How long does it take to install a household solar system?
Installing the solar panels, inverter and battery can be done within one to three days.
Can solar panels be installed on a flat roof?
While there are some aspects to consider, solar panels will perform efficiently on a flat roof provided that they are mounted securely and installed at the optimum angle. The optimum angle for a solar panel's performance in Johannesburg and Cape Town would depend on latitude and other local factors.
How many solar panels are needed for a typical house?
The average home will use between 6 and 12 panels, but the exact number depends on the area of your home, inverter capabilities, and electricity needs. Choose an experienced supplier who can correctly assess your property and energy demands and offer flexible package options suited to your home and your budget.
Will the system work in extreme conditions?
Most are designed to withstand high winds, heavy rain, and hail. Solar panels may actually operate more efficiently at lower temperatures than at very high temperatures, but extreme cold can reduce their efficiency.
Make sure that your panels are installed correctly to prevent damage, and to ensure that you are covered by your insurance.
Is it covered by a warranty?
In terms of performance, all of Versofy SOLAR's equipment is backed by robust warranties for the term of your agreement. Check that your supplier offers the same. As a Versofy SOLAR Subscription or Versofy SOLAR Care customer your warranties will be serviced by Versofy SOLAR for your peace of mind.
What are the payment options?
Solar as a Service - This is a pure rental product where there is no ownership of the system. Installation, monitoring and support is included. This option gives users all the benefits of solar, at a lower monthly cost, and without the associated costs of ownership.
Rent to Own - Rent to Own is just like a cellphone contract for solar. You are able to benefit from the full savings of owning the system after the contract is up. If you sell your home, you should be able to transfer your rental agreement into the new owner's name, subject to the new owner agreeing to the original terms and conditions.
Cash - This is when you buy the system outright. The positives are that you start to get a return on investment immediately. It also requires substantial upfront capital.
How much does it cost?
We are transparent about Versofy SOLAR's costing structure and are happy to share it for comparison purposes: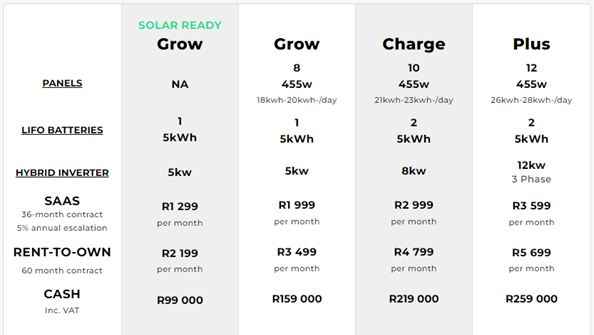 What is the lifespan of a solar panel and how much maintenance does a household solar panel system require?
The lifespan of solar panels should be 20 to 30 years. They may require cleaning once or twice a year with water and a soft bristle brush, and you'll need to occasionally check that they aren't being obstructed by trees or debris.
How does one monitor the performance of the solar system?
Discuss inspections with your supplier upfront – if you're on a monthly contract, this should be included.
"There is still a long way to go to just getting people switched to solar and less reliant on the grid," says Mains-Sheard. "South Africans are very interested but understandably hesitant. I hope that by supplying these answers, we can allay some of the fear around the 'unknown' aspects of solar and reassure readers that installing solar is neither a mammoth task nor that it requires huge capital."
Here is what you need to know about the tax incentives for solar installations in South Africa