Data analytics company, Lightstone, recently published a new report that has revealed that first-time buyers are entering the market in the R700k to R1,5m valuation bands as opposed to less expensive valuation bands - and they have favourite suburbs.
Lightstone's Head of Sales, Hayley Ivins Downs says there are many reasons behind this trend, including:
The correction in house prices, which has created opportunities for first-time buyers to be more ambitious
Younger people are saving for longer before committing to home ownership
Parents are supporting their offspring, helping them to buy-up
Formative salary levels are growing quicker than inflation
Many buyers are opting away from RDP developments in or near townships because they want to be closer to work and travel less.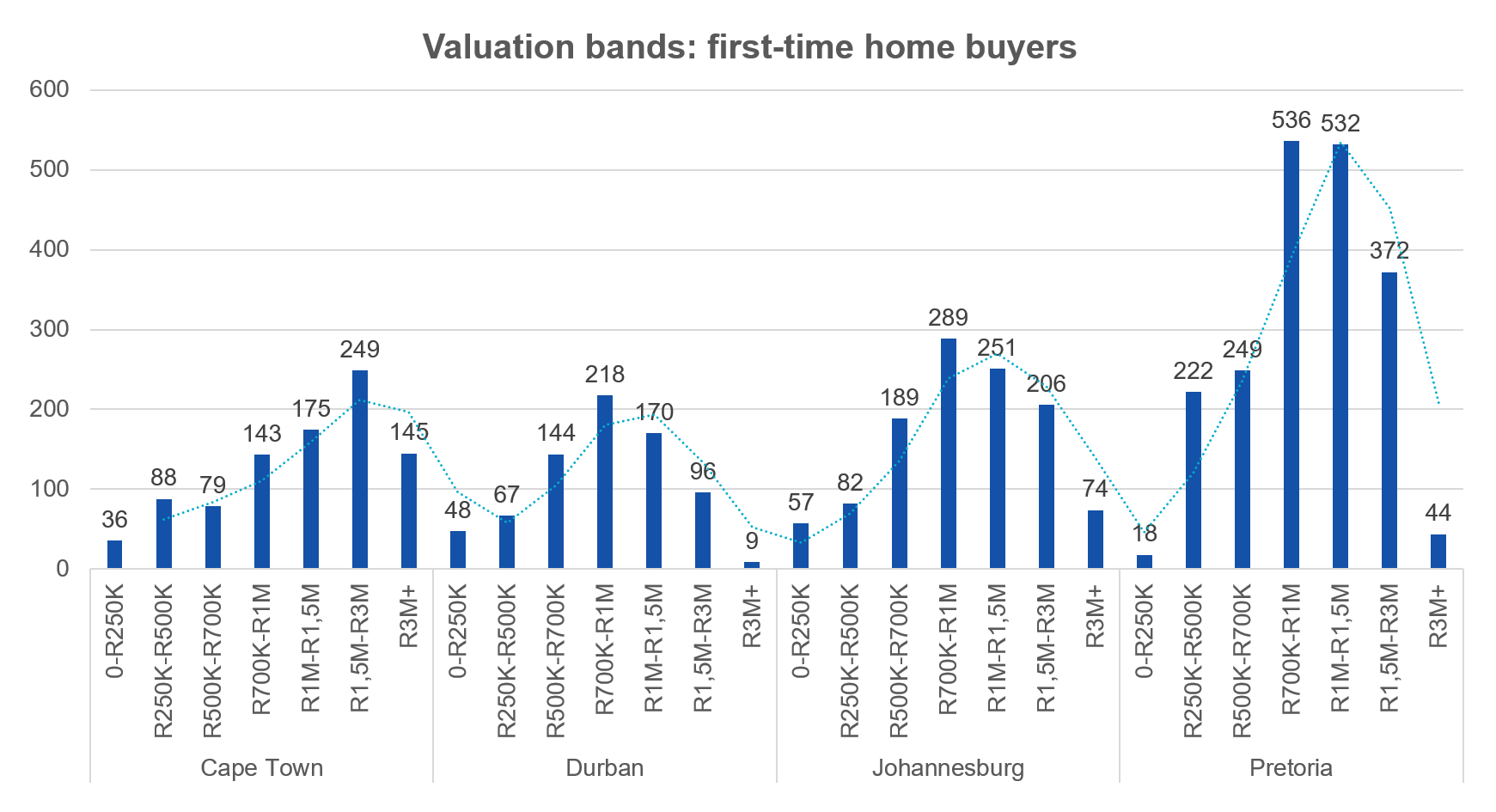 Source: Lightstone
In the city-by-city graph above, the highest number of first-time buyers in Cape Town was in the R1.5m to R3m band, while in Durban, Johannesburg and Pretoria it was in the R700k-R1m band.

Adding that "while the data reinforces the historical relative premium on property in Cape Town, it clearly demonstrates how Pretoria outscored the other major centres when it comes to numbers of first-time buyers – and by some distance."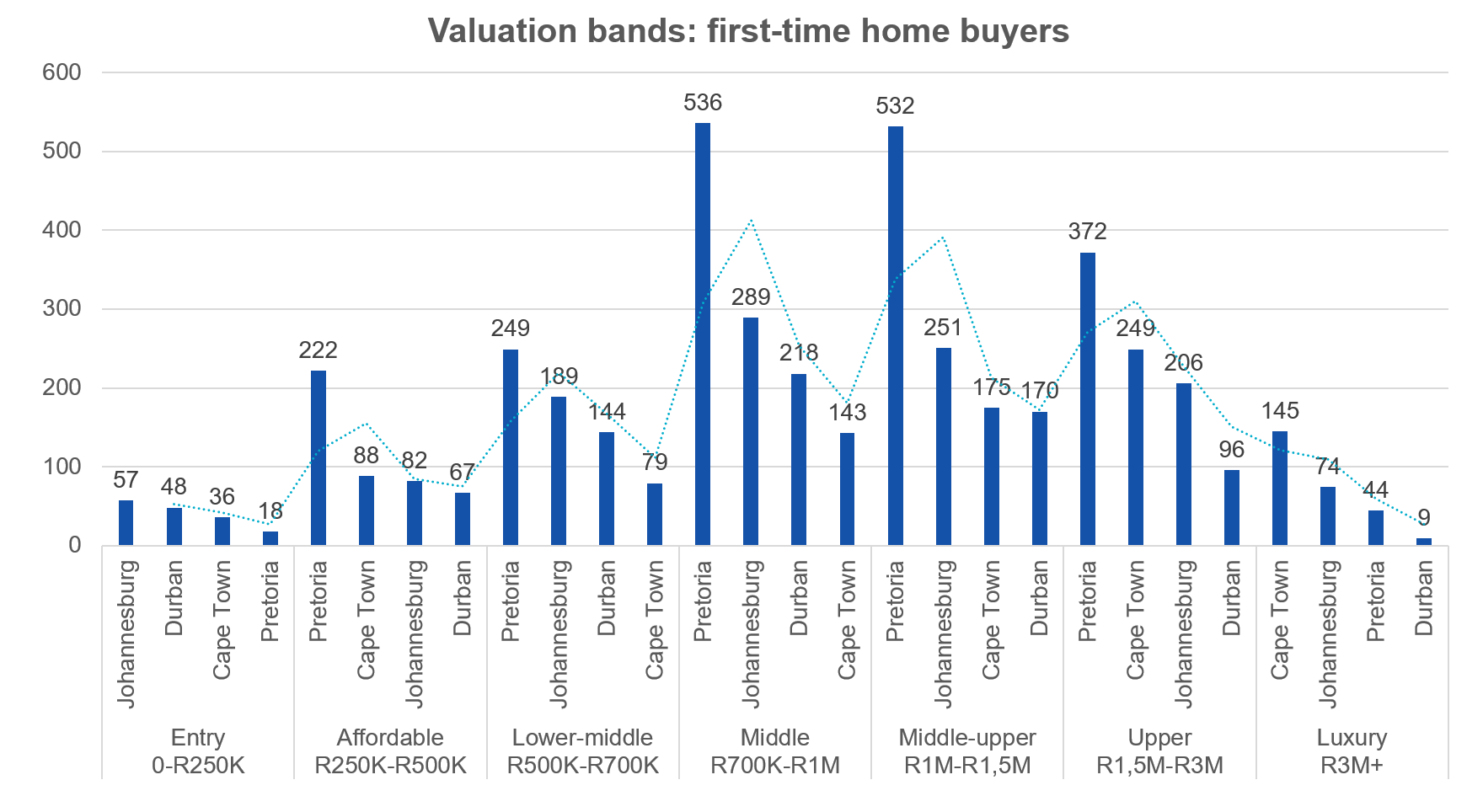 Source: Lightstone

As per the graph above the concentration of first-time purchases in the R700k-R1m and the R1m-R1.5m segments is clearly evident.
Below we can see in terms of wealth segments, most first-time buyers are coming from the "Mid value" and "Mid upper" categories.


Source: Lightstone

Where are first-time home buyers buying?
Data has revealed that Langa leads the way and that 75% of first-time buyers in Sandton and Midrand are black.
Langa (112 purchases) and Belhar (91 purchases, situated in the Cape Flats) lead the way for first time home buyers in Cape Town in 2020 – suggesting black buyers are increasingly moving into property ownership.
Other suburbs in the top ten included Plumstead, Observatory, Sea Point, Wynberg, Rondebosch and Claremont, all located in the southern suburbs, with Sea Point on the Atlantic seaboard and Ottery on the edge of the southern suburbs making up the balance.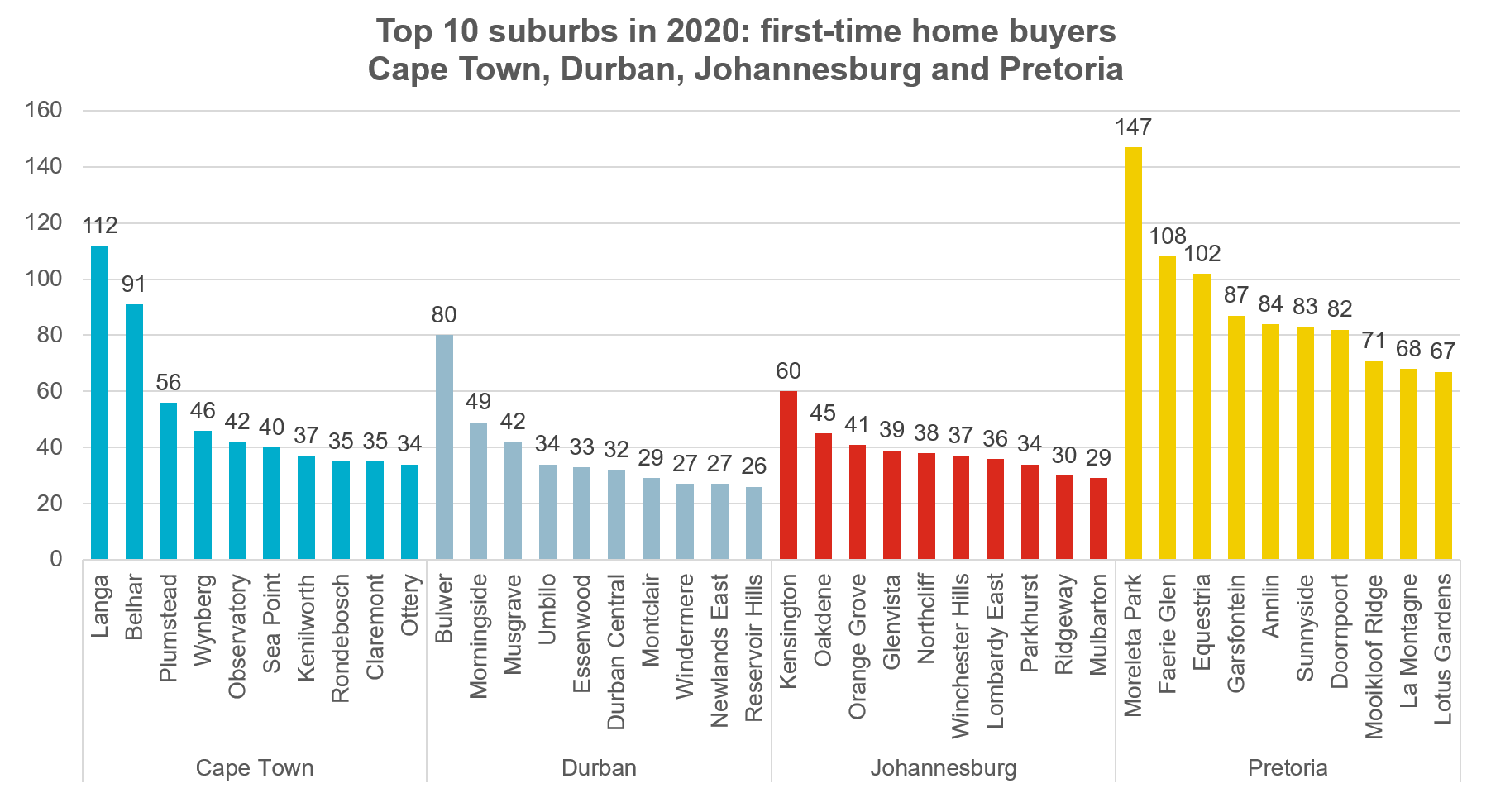 Source: Lightstone
In Johannesburg, Kensington (60 purchases) directly east of the city centre was the first choice in 2020, up from fifth in 2010. Oakdene (one of five suburbs located south of the city) and Orange Grove (one of four in the northern suburbs) were next.

Source: Lightstone
First time buyers have consistently been drawn to the same suburbs in Durban, with nine appearing in both the 2010 and 2020 top ten lists. Bulwer (80 purchases), located adjacent next to the Durban CBD, was the leading choice in the period January to September 2020.
Other suburbs to feature in both periods include Morningside, Reservoir Hills, Musgrave, Durban Central, Essenwood, Montclair, Newlands East and Umbilo. The new entrant in 2020 was Windermere, which replaced Earlsfield.
In Pretoria, Moreleta Park (147 purchases) is comfortably ahead of the other leading city-based suburbs. Moreleta Park is among the popular suburbs south and east of the Pretoria CBD, which include fellow top ten choices, Faerie Glen and Equestria.
The increased sales in Pretoria could reflect people moving into the city from surrounding rural areas as security concerns mount, changing university lodging rules, many new flats and residential developments are coming on stream, and state schools are plentiful and less expensive than many in Johannesburg. The areas where people are moving to are centrally located, with hospitals, malls and road networks within easy reach.
The impact of Covid-19 and the lockdowns are perhaps evident in the tables below, subject to the backlog being cleared at the Deeds Office. They show total first-time purchases dropping to 2,195 in 2020 from 4,992 in 2010 – a drop of some 55%.
It is also interesting to note that first-time buyers are waiting longer to buy their first home and that women (graph below) make up the majority of first-time homeowners while men make up most of the repeat buyers.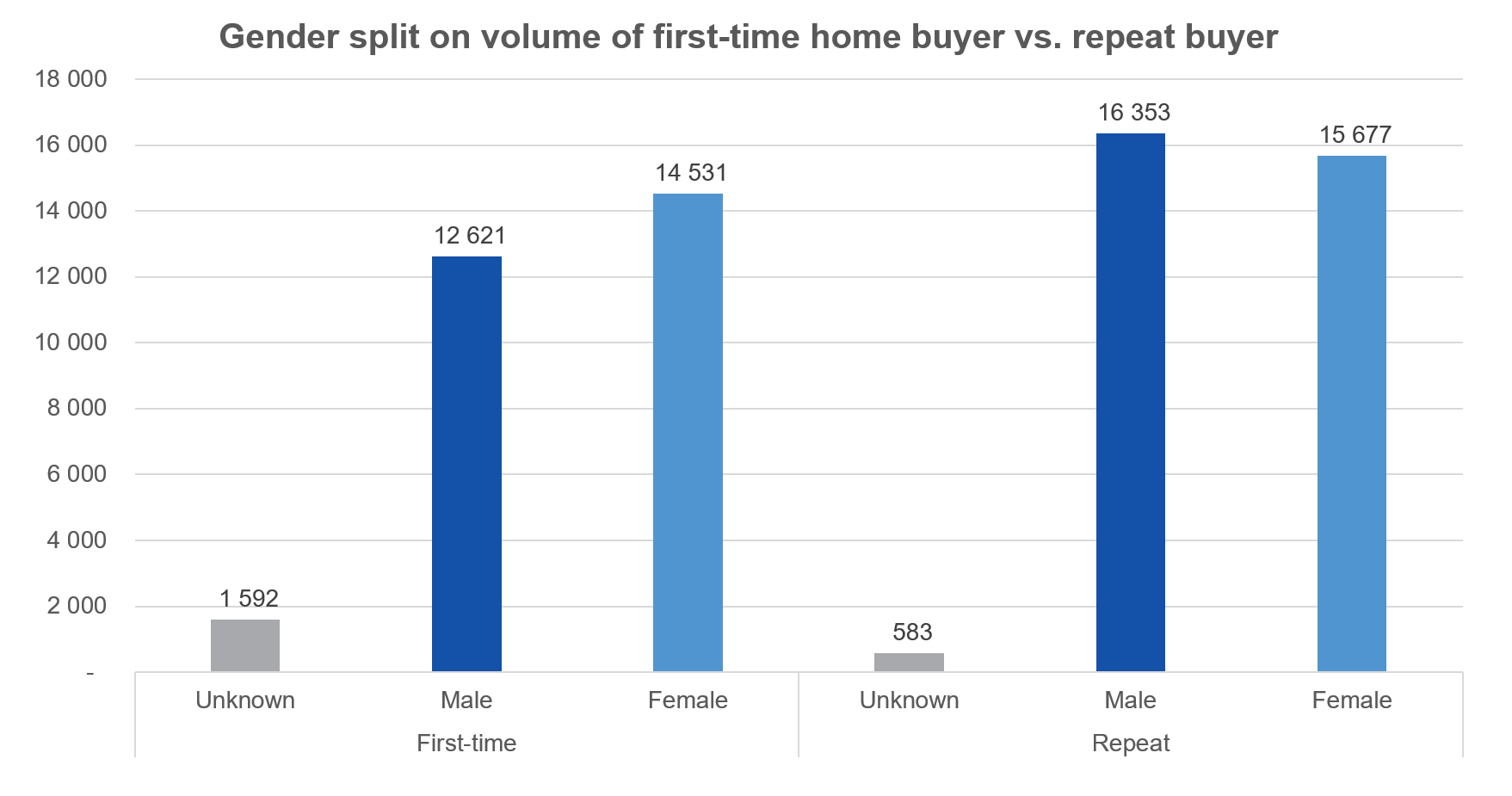 Source: Lightstone
Ready to buy your first home?

Make sure you kick off your home-buying journey on the right foot by obtaining a pre-qualification. Apply for a pre-qualification and a home loan here