For most of us living in cities, smog-free air in our homes is a luxury, and investing in expensive air purifiers is not always an option. So how do you ensure better air quality in your home at a fraction of the cost? Houseplants obviously!
A study on air quality by NASA suggested that, in addition to absorbing carbon dioxide and releasing oxygen through photosynthesis, certain common indoor plants may also provide a natural way of removing volatile organic pollutants (benzene, formaldehyde, and trichloroethylene were tested)

Here are some of the best air-purifying houseplants for your bedroom - to assist with better sleep - as recommended by NASA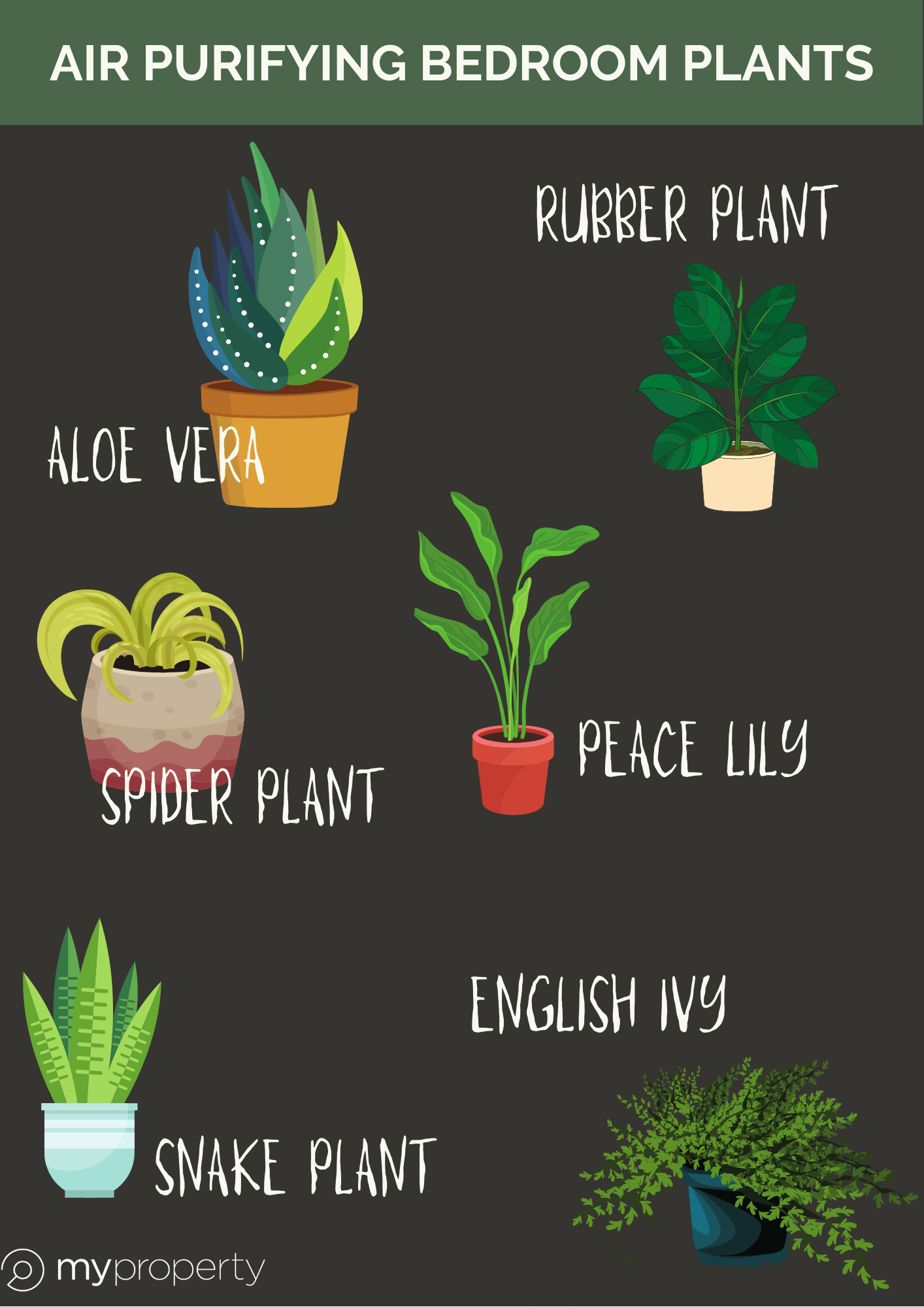 Aloe Vera

A healing aloe plant is a lovely addition to your bedroom windowsill, as it loves a sunny spot. While being on hand to soothe any burns, this succulent will be purifying the air of formaldehyde and benzene, found in varnishes, floor finishes, and detergents.
Recommendation and Care: This plant will thrive in a sunny location. It doesn't require frequent watering, so it is perfect for new plant moms and dads.
Best placement: Any window sill or any well-lit corner, out of the way to avoid pricking

Rubber Plant

While rubber plants (Ficus robusta) are grown as easy-care houseplants, they also improve indoor air quality. Their large leaves can absorb airborne chemicals and break them down, rendering them harmless. They absorb exhaled carbon dioxide and convert it to breathable oxygen. Rubber plants also eliminate bacteria and mold spores in the air.
Recommendation and Care: Rubber plants are tolerant of neglect and so can be grown easily by those with little experience with plants. They should be allowed to dry out between watering. Rubber plants handle under-watering better than over-watering. They can thrive in dim light, so they do well in a variety of indoor conditions. Rubber plants can grow large in the right conditions, so they should be planted where there is space for them to grow.
Best placement: The living room or the bedroom

Spider Plant

For those of you who are houseplant newbies, the resilient spider plant is a perfect choice. It will quietly battle toxins including carbon monoxide and xylene, a solvent used in the printing and rubber industries. If you have pets, this is one of the few houseplants that are non-toxic to animals.
Recommendation and Care: You can also repot the tiny 'spiderettes' and grow a whole family of plants that will pretty much take care of themselves… and you.
Best placement: The bedroom or the living room

Peace Lily

The added benefit of a peace lily is that it can increase room humidity by up to 5%. Increased humidity is great for breathing while asleep. Apartment Therapy says: 'Low humidity causes static electricity, dry skin and hair, increased susceptibility to colds and respiratory illnesses, and can allow viruses and germs to thrive'.

Recommendation and Care: Peace lilies also have beautiful white flowers and need little light and watering just once a week – great for bedrooms.
Best Placement: The bedroom or the living room.

Snake Plant

Also known as Mother-In-Law's Tongue, the Snake Plant is unique for its nighttime oxygen production, and ability to purify air through the removal of benzene, formaldehyde, trichloroethylene, xylene, and toluene.
Recommendation & Care: The Snake Plant does well in window light and needs to be watered weekly. For one person, six to eight waist level plants are recommended. In an air-sealed room, these plants are capable of producing enough oxygen to breathe normally.
Best Placement: The bedroom

English Ivy

According to NASA's Clean Air Study, English Ivy is effective at cleansing benzene, formaldehyde, xylene, and toluene from the air. Additionally, other studies have indicated that English Ivy also helps reduce mold in your home.

Recommendation & Care: Plant ivy in an all-purpose potting soil, in a pot with drainage. Let the top of the soil dry to the touch between waterings, and fertilize your ivy about once a month in the spring, summer, and fall. Especially in dry, winter air, it will benefit from regular misting of the foliage. If the vines get too long, you can trim them back, and easily root cuttings in water to create new plants. Ivy vines attach to surfaces with tiny roots that can cause damage to walls, so be careful not to let your vines grow on anything they could harm. It should also be noted that it is considered toxic to cats and dogs.

Best Placement: The bedroom and living room